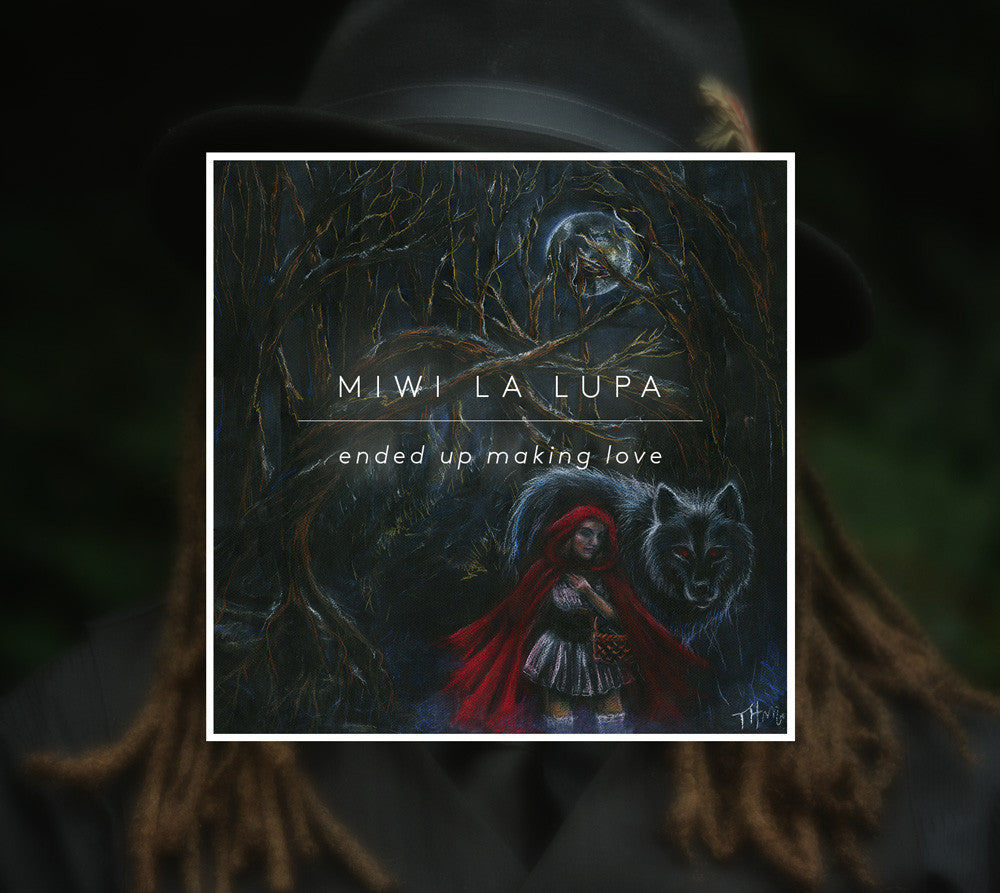 Miwi La Lupa
MiWi La Lupa - Ended Up Making Love
Release Day - March 25, 2016
If you've ever been to St Dymphna's on St Marks Street in the East Village on a Sunday night, then you might have walked in on a live performance by MiWi La Lupa. He's usually playing from a bar stool, with a hat and scarf and guitar.  This was after the years in Buffalo and after the release of his debut album, New Way Home, (Team Love, 2014).  Over the course of 2014 and 2015 MiWi held down a steady gig at St. Dymphna's (know as Church by the regulars) while he wrote the songs for his sophomore album, Ended Up Making Love.
But let's back up a bit; the last decade is worth a quick recap.
Raised in Buffalo, MiWi's first instrument was the trombone. His study took him from Buffalo to Rochester and the Eastman School of Music, where he traded in his trombone for a bass trumpet, before, like many musicians, he continued south, arriving in NYC in the summer of 2005. Once in the city, things began to speed up for MiWi.  He soon found himself performing with greats like Les McCann, David Byrne, Bill Frisell, Femi Kuti, Charlie Hunter, and El-P. MiWi would also become an original member of the band Red Baraat, with whom he would go on to tour the world.
Somewhere in there, amidst all the hustle, MiWi began to write songs.  The first album came quick and heavy, but the follow-up batch of songs is quite clearly, even after one listen, MiWi's greatest moment.
Putting order to the new songs and finding a place to record resulted in an odd turn for MiWi, or maybe, as the nature of a restless soul is to keep moving, it wasn't that strange at all.  MiWi enlisted producer Mike Mogis and Bright Eyes' frontman Conor Oberst to co-produce the album in Omaha, and as a result, MiWi packed his bags and moved to the Midwest.  It's now his new home.
Buffalo to Brooklyn, Brooklyn to Omaha…
New Way Home saw the arrival of MiWi as a solo artist.  Ended Up Making Love now sees him growing in consciousness and melody.  There's more going on here.  Whereas New Way Home was largely a documentation of the end of a relationship and the creative rebirth that followed, Ended Up Making Love is a collection of songs that let's in the light. There's the political (Two Hearts, I Yield) and the personal (Raincheck, Buffalo Folk) and then there are songs that are just straight up hook-fueled pop gems (Ended Up Making Love, Vines).
MiWi has a lot lined up for 2016: in addition to the new album, there is his mix-tape coming in the spring, a tour of Europe and the UK, his role in the new Omaha-based Dolores Diaz & The Standby Club, a US tour in the works for summer, and another album soon to follow. 
Ended Up Making Love is out on March 25, 2016 on Team Love Records.
Tracklisting:
1. Ended Up Making Love 03:17 
2. Big Heart 03:47
3. Giant Sleeping 03:44
4. Cold Moon 04:20
5. Raincheck 03:31
6. I Yield 03:05
7. All I Got 04:32
8. Holiday 03:34
9. Migrate 03:56
10. Buffalo Folk 03:55
11. Vines 04:04
---
Share this Product
---
More from this collection