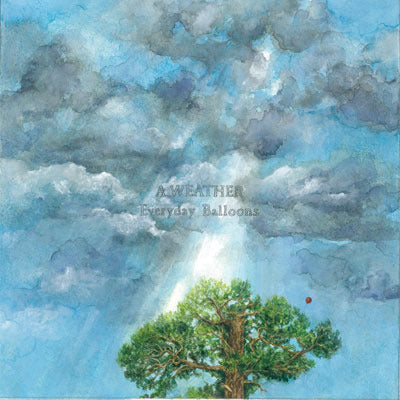 A Weather
A Weather - Everyday Balloons
Everyday Balloons both builds upon and maintains the intimate, understated beauty and depth of the band's 2008 debut, Cove. Opener "Third of Life" immediately introduces A Weather's more electric guitar-driven side and newly broadened dynamics, while the hushed pop of "Giant Stairs" steadily swells to a gently triumphant anthem. Often built around the interplay between Aaron Gerber's and Aaron Krenkel's spare guitar work, each song features Gerber's and Sarah Winchester's serene yet richly emotive, breathy vocals that alternately intertwine and soar alone across aching, lush melodies. Delicately nuanced themes of comfort and fear, routine and deviation, and the tender vulnerability of hope thread through the album, which culminates with the epic exploration of spiritual exhaustion found in final track "Lay Me Down."
Once again recorded by engineer Adam Selzer (M. Ward, The Decemberists, Norfolk & Western) at Portland's Type Foundry Studios, Everyday Balloons is propelled by the restrained yet unmistakable power of A Weather's songs. This singular quality recalls critical recognition of Cove, of which NPR's 'Song of the Day' observed, "In the band's hands, a sigh is far more compelling than a scream", while the album also garnered high praise from Pitchfork ("…A Weather are, quite literally, a quiet storm") as well as Nylon, Spin.com, Popmatters, and The New York Daily News, among others.
TRACKLISTING:
Third of Life 6:23 MP3
Winded 3:47
Ducks in a Row 4:05
Seven Blankets 5:33
Midday Moon 2:53
Newfallen 4:24
No Big Hope 4:09
Fond 4:27
Happiness 4:24
Giant Stairs 4:05 MP3
Lay Me Down 7:03
VINYL VERSION OF "EVERYDAY BALLOONS" COMES ON ONE 12" AND ONE 7"
x
---
Share this Product
---
More from this collection