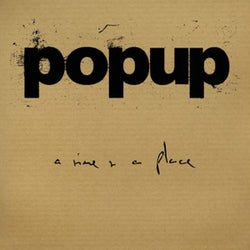 Popup
Popup - A Time & A Place
Sale price
$9.00
Regular price
$11.00
The debut album from the much talked-about Glasgow 4 piece, which was recorded during the course of a long year before gigs, after work, and late at night. As a result it's an idiosyncratic and surprising listen, at times pure rock'n'roll, at other times boy-girl harmonies that recall the Delgados or angular, stripped-back punk. 
They've been described as Arab Strap on happy pills, and the owner of SWG3 says 'they are brilliant - sharp, irreverent and deeply Glaswegian'. This is largely thanks to Gilhooly's dark lyrics and his thickly accented delivery, putting Popup in the same league as Frightened Rabbit and The Twilight Sad. With song titles such as 'Stagecoach' and 'The First Weekend of the Smoking Ban,' Gilhooly's grim tales are of bad chat-up lines at bus stops ("we shared a cigarette / turns out he had tourettes") and betrayal between conjoined twins. He happily finds ways to make "Ginger rogers and Fred Astaire" rhyme with "indie boys with their pretty hair". 

Gilhooly says the essence of the band is the music he grew up with: Prince, Deacon Blue, Nirvana and the Fall, though "we're not influenced any more by Aidan Moffat than we are by Bob Dylan."
Love Triangle 5:11 MP3
Poison Apple 2:36
Stagecoach 3:42
A Year In A Comprehensive 1:48
The Saviour Of Judas McDade 5:12
Dreams Like These 4:15
Chinese Burn 2:36
What's The Matter Now? 2:48 MP3
The First Weekend Of The Smoking Ban 5:04
Pure 2:26
In Her Day 2:57
Pull The Fuse 3:16
Lucy, What You Trying To Say? 3:42
---
Share this Product
---
More from this collection