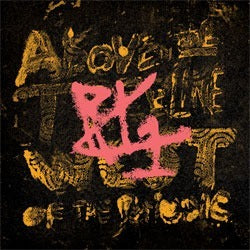 Rig 1
Rig 1 - Above the Tree Line West of the Periodic
The realm of rap and the cosmos, the OUTER SPACE where Sun Ra and George Clinton pointed the young pups' gaze to the sky…but pushing a mop bucket down an empty hall under dusted florescent lights slowly digesting generations of dead flies; Rig 1 was unable to see the stars and turned his quest to understand our place in the universe back in on the Self. Rather then explore the outer ring he opted to polish the double-helix, scrub the electrons and map the infinite space between particles, the space between the wall and the fist, the small hairs and ocular freeways that inform the mind, that text-book-answers are an easy option, but not the only path.
Rig 1, a Midwestern endeavor 10 years in the making, started in the jammed-in-the deck 36 Chambers cassette, melting behind the dashboard controls in the baking sun, windows up tight, air choking and abandoned; Rig 1 started in the janitor's closet, in the bag of E's in the top drawer, in the notion that inner-space has no mirrors, only manifestations of will.
Ian McElroy took his Rig 1 project to Athens, GA in 2007 because it was time to put it all down. The scraps of papers covered in rhymes were filling the ashtrays and falling in the space behind the piano in the front hall. Andy LeMaster and Rig 1 bunkered up and started exploring the sounds that were noticeably absent from hip-hop, sonic mud pots, forgetting to turn off the oven, bloody eggs, guitars, Aceeed 303 late 80's gurgle and layers of sound that toss Spaceman 3, Mercury Rev, Too Short and Timothy Leary into one rolled up and lit up endeavor, doing something the way you hear it in your heart and mind.
Now residing in New York City, working double shifts, keeping it Murray and always confused, but positive, Rig 1 is still with the breast pocket of his life suit filled with new lines and thoughts. Above the Tree Line West of the Periodic is a record that comes along and reminds you that ideas are infinite and the space between the electron and neutron is the universe itself….look to the sky and see what is inside the Rig 1.
TRACKLISTING:
Dawn of the Tinman 4:13
River of Consciousness 3:41
Dirty Little Sica 3:36 MP3
Tabula Rasa 3:11
Fresh 1:28
Out the Periphery 3:51 MP3
Came From 2:17
Drink Drunk 3:30
Double Click 2:34
Ghost 2:54
---
Share this Product
---
More from this collection