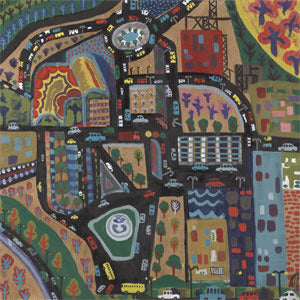 Nik Freitas
Nik Freitas - Sundown
Nik Freitas' Team Love debut Sun Down -- equal parts wry, warm and sonorous -- is the end product of several years of ups and downs. Freitas writes, plays, engineers and produces every note on his records. Not that he's got a lot of expensive gear. A visit to his Poppy Peak studio/shed reveals that Nik is working low-budget minor miracles, The kind of miracles one receives via hundreds of hours on Craigslist. One listen to Sun Down and you know you're hearing a certain hard-won grace.
It all began several years ago for Freitas, when a co-worker sold him an antique piano that was "used by a street musician before the dawn of the Casio." Nik taught himself how to play the thing, and it became the cornerstone of his three earlier records, Here's Laughing at You, Heavy Mellow and Voicing the Hammers. Other people began to take notice. He's opened for Jason Lytle (of Granddaddy), played guitar for Jim Fairchild (of All Smiles), and recorded with Miles Kurosky (of Beulah). Lately, he's been opening shows for Bright Eyes…which led him to his current resting place at Team Love.
Sun Down is a succinct, concentrated record that will take the listener from Paul Simon's Graceland to David Bowie's Hunky Dory. Each song -- each moment -- is endowed with a striking mix of self-possession and gravity. There is no reaching, no going for the gold, just ten lovely four minute thesis statements.
TRACKLISTING:
Sun Down 4:24 MP3
Oh My God 3:10
All the Way Down 3:49 MP3
What You Become 4:27
Sophie 2:52
Love Around 5:00
It Ain't Like That 2:51
See Me There 4:26
Comes to Me 4:03
Shhhh 5:42
---
Share this Product
---
More from this collection