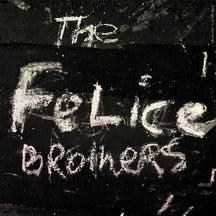 The Felice Brothers
The Felice Brothers - The Felice Brothers
In the spring of '07, the Felice Brothers released their first recording "Tonight at the Arizona" on Loose Records in the UK. They WOW-ed 'em across the pond playing festivals and gigs throughout the UK and Europe with the likes of the Waterboys, Blanche and David Grey. After making their way across America this summer for their first tour, the band hooked up with Bright Eyes for a string of rousing dates on the East Coast ---culminating in a performance on the venerated stage at Radio City Music Hall. The Felice Brothers also kicked it with Levon Helms for one of his classic Midnight Rambles upstate. Along they way, fans at shows were introduced to "The Adventures of the Felice Brothers Vol 1", only available at live dates. The sound that emerges from their instruments is steeped in an instinctive authenticity rooted in tradition.
While busking and impromptu subway performances filled their bellies, now their recordings and live performances brings the backwoods to the cities and concert Halls of America and Europe. Starting off '08 on the right foot, the Felice Brothers proudly announced their signing to Team Love Records.
Simone, Ian and James Felice are the three eldest boys from a family of seven, born carpenter's sons in the wilds of New York's Catskill Mountains. Less than a year ago, the Brothers adopted a runaway dice-thrower and chancer, a 19 year old called Christmas. They convinced him to quit his job and the motley quartet forsook all else but song and moved their Sunday BBQ sing-alongs from their dad's upstate house out onto the streets and subways of NYC.
After months of toil, living in a 1987 special education bus, with arrests, and genuine panhandler fun, a freelance music writer named Gabe Soria (Mojo, Vice) stumbled upon the boys singing and barking their wares at a farmers market in Brooklyn and one thing led to another. Now the Felice Brothers and blood brother Christmas all live, tour, sing, write and gamble together on their little bus. Their distinct brand of songwriting and the lawless sound they've forged has earned them comparisons to Woody Guthrie, to a young Springsteen, to the Scorsese film Gangs of New York. The boys now travel the world performing homegrown and gritty Americana on the city stages as if they were hosting a sing-along on their own front porch surrounded by family and friends, or playing the backroom of a dusty tavern.
TRACKLISTING:
Little Ann 3:23
Greatest Show on Earth 5:30
Frankie's Gun! 4:06 MP3
Goddamn You, Jim 3:25
Wondeful Life 4:02 MP3
Don't Wake the Scarecrow 4:56
Take This Bread 4:51
Saint Stephen's End 4:03
Love Me Tenderly 3:40
Ruby Mae 4:08
Murder By Mistletoe 4:41
Whiskey in My Whiskey 3:48
Helen Fry 5:44
Radio Song 3:51
Tip Your Way 5:22
---
Share this Product
---
More from this collection