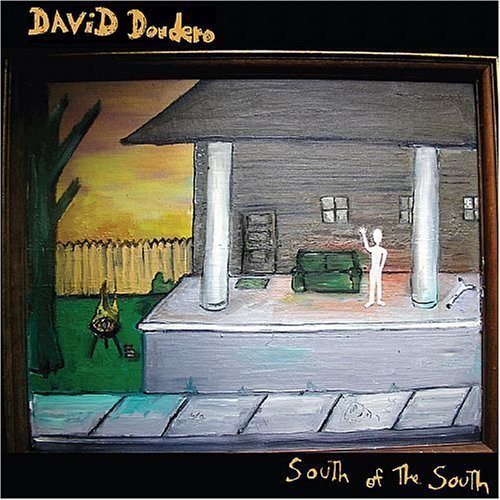 David Dondero
David Dondero - South of the South
South of the South is a perversely American record full of sentimentality, contempt, humor, and lust—a pissed off yet hopeful statement from a man who knows that the life of a working musician is as rewarding as it is hard. Few songwriters have experienced and expressed the sinking depths and uplifting optimism of humanity like David Dondero and his ability to shine a light on the human condition (his own included) is inspiring. Restless, prolific, and perpetually on the road, Dondero makes a quick stop on his endless trek to drop off his sixth solo record, South of the South (out in the fall of 2005 on Team Love Records). It's "not a typical life," Dondero sings on "You Shouldn't Leave a Lover Alone Too Long," and that only begins to scratch the surface.
Considering everywhere Dondero has traveled, it's not surprising that geography permeates his songs. From Miami, Florida to Ely, Nevada, Dondero connects the highway lines into a collection of literate, impressionistic, folk-blues mini-epics. Conjuring the spirit of Henry Miller coming to terms with his homeland in The Air-Conditioned Nightmare, Dondero is like the ex-patriot returned–passionately and sublimely relaying how beautiful and ugly this huge-ass country can be.
The former Sunbrain singer/guitarist spent a week in August and two weeks in December 2004 at Sweat Box Studio in Austin Texas with a seasoned cast of like-minded cohorts, giving South of the South a richer, more worn-in feel than any of his previous records. Eric Bachman (Crooked Fingers), Mike Vasquez, Tom Heyman, Dan Carr, and Chris Heinrich collectively bring decades worth of musical wisdom that spreads all over these songs like the dust from a pickup peeling out on a dirt road. Of course it wouldn't feel right without longtime cohort Craig D on drums, and longtime Dondero fans can take comfort in his presence. "I've Seen the Love," features a signature Craig D shuffle beat while Vasquez's trumpet breezes through and Benjamin Howard's electric bass keeps the song on its feet. "Let go the Past"–a determined, eerie, country-stomper–finds Heyman manipulating a reverb heavy slide guitar line, while Bachman lays a blanket of keys. Nice.
With an album full of ringers, it's somewhat surprising that some of the most revealing moments simply include Dondero's voice and guitar. On the haunting, live-to-one-track recording of "Brownsville Revival," he finger-picks a haunting melody and sings a damning lullaby about his home state of Florida and its backwoods religions with disarming results:
"There was a man whose daughter had died/I believe it was in Gainesville/By the cooler/And he put her inside/Went to Brownsville revival/Asked the congregation/If they could bring her back for him/He was looking for a miracle/But it just didn't happen."
Yes, it's a bleak story, but it's the life some people lead.
TRACKLISTING:
South of the South 5:09
I've Seen the Love 4:02
Journal Burning Party 3:52
Let Go The Past 3:38 
Summertime Suicide No. 1 2:34
Brownsville Revival 3:03
The One That Fell from the Vine 4:19
Persevere 3:38
You Shouldn't Leave a Lover Alone Too Long 4:36
Pornographic Love Song 4:27
Laying Low in Eli, Nevada 5:47
Hwy Death Shrine 3:37
Summertime Suicide No. 2 2:31
---
Share this Product
---
More from this collection