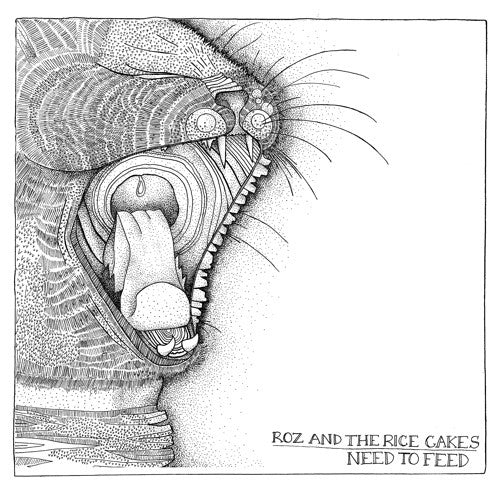 Roz and The Rice Cakes
Roz and The Rice Cakes - Need to Feed
Purchase the album on Bandcamp.
Art Rock, that's a pretty broad term.  And yet, when describing Providence, Rhode Island's Roz and The Rice Cakes, the term Art Rock fits squarely in the center of any definition that attempts to describe this band's sound.  But under the stuttering time-changes, the crescendos, and the complex arrangements, at the heart of these songs, there is a simple pop quality that roots the band somewhere down a back alley where Fleetwood Mac and Henry Cow mingle with Bettie Seveert and Gwen Stefani. Roz & The Rice Cakes is equal parts experimental and catchy, energetic and bookish, daring and sugarcoated. 
Since 2008 the group has been touring the US non-stop, either headlining or supporting such artists as Passion Pit, Andrew WK, The Joy Formidable, OK GO and Tera Melos.  They have played such national stages as The Newport Folk Festival. For their first album for Team Love Records "Need to Feed" sees the band teaming up w/ producers Bern Miller and Jeff Prystowsky from the Low Anthem at Providence's historic Columbus Theatre .  The results take the band to a new height in terms of tapping into their twin attributes of pop and art. 
Team Love Records (New Paltz, NY) will release "Need To Feed" as a digital album on June 24th.
A few copies of the limited-edition red vinyl are also available for purchase, digital download included.
Tracklisting
The Birds 4:31
Castle 4:35
Need to Feed 4:22
Metallic Gaze 4:03
Follow Suit 3:35
Demonlike 3:46
Missing 1:42
Suck All Their Blood 3:20
Hay Fever 3:45
Simile Like Me 2:25
Floor Boards 4:01
Push and Pull 5:32
Digital download includes bonus tracks: 13. Simile Like Me (Razor Skin Remix) 1:54 14. The Birds (Maplight Remix) 6:46 15. Suck All Their Blood (Live - Feedback Loop Session) 3:26 16. Missing (Maplight Remix) 1:39 17. Castle (Softer Remix) 5:07 18. Floor Boards (Maplight/Razor Skin Remix) 2:09 19. Hayfever (Softer Remix) 5:18 20. Demonlike (We Roll Like Madmen Remix) 3:50 
---
Share this Product
---
More from this collection