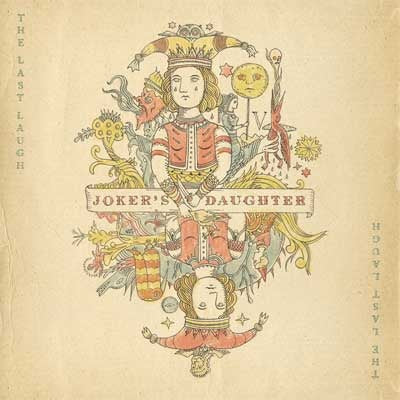 Joker's Daughter
Joker's Daughter - The Last Laugh
Joker's Daughter, featuring vocalist, songwriter and multi-instrumentalist Helena Costas. This fresh folk-pop excursion reveals new facets of the renowned artist and producer Danger Mouse, who collaborates with Costas throughout.
Born in London but Greek Cypriot by origin, Helena Costas studied violin from ages 7 to 13, then taught herself guitar and keyboards. As she became an adult, her mission came into focus. She wrote songs relentlessly, learned the art of production, and gained confidence as a performer as she played gigs around London.
Like a cryptic, symbolic dream, the music of Joker's Daughter feeds on a range of conscious and unconscious influences, from classical violin training to Arthurian legend to a certain fascination with food. The result is haunting, infectious and playful, a rich harvest from a broad psychic landscape.
In 2003, she began sending her home recordings to artist/producer Danger Mouse, a correspondence that continued as his career grew. The two artists discovered a natural affinity, and launched a collaboration, which they dubbed Joker's Daughter after one of Helena's many shifting personae.
Joker's Daughter is a character who gives voice to the darkness and redemption in Helena's psyche, often with a mischievous flair. Always evolving as a musician and performer, Helena has recently taken up the bouzouki, a traditional instrument played by the muses in ancient Greek myth.
Danger Mouse is a full collaborator at every stage. His verdant production and instrumentation compliments the full spectrum of emotion in Helena's music, from grief to celebration to happy ambiguity. Together, they make music both timeless and fresh from a strange, uncharted world.
The project also features the horns of Neutral Milk Hotel's Scott Spillane and the string arrangements of frequent Danger Mouse collaborator Daniele Luppi.
Worm's Head 2:05  MP3
Jessie the Goat 2:54
Go Walking 3:44
Lucid 3:45
JD Folk Blues 1:40
The Last Laugh 2:08
Under the Influence of Jaffa Cakes 2:18
Jelly Belly 2:05
Cake and July 3:04
Chasing Ticking Crocodile 3:16
Nothing is Ever What It Seems 3:44
The Running Goblin 3:18
The Bull Bites Back 2:45 MP3
Yellow Teapot 3:49
---
Share this Product
---
More from this collection