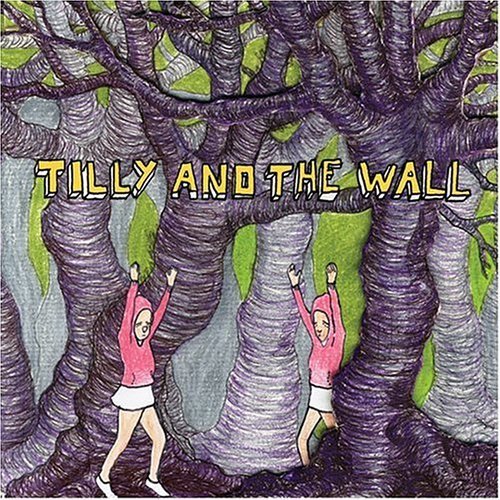 Tilly & the Wall
Tilly & the Wall - Wild Like Children
Tilly and the Wall sprang out of Nowheresville, USA — a Midwestern band of like-minded friends with pockets full of melodies….and a lot of pockets. The serendipitous result of five Omaha residents with a penchant for the same classic '60s pop, boy/girl harmonies and Americana folk records, Tilly and the Wall celebrates the petulant, determined, feisty nature of youth. They rejoice in tales of dreams followed, mistakes made, and hearts broken.
Tilly and the Wall's debut album, Wild Like Children consists of 10 perfectly formed songs bursting with enthusiastic hyperactivity, while emanating a bittersweet melancholy of long lost summers and misguided first loves. In front of a backdrop of sunshine, rain and snow, Tilly and the Wall sings songs about loving & kissing, dancing & drinking, staying & leaving, driving & talking, sleeping & dreaming… and they're probably the only band to write a hauntingly wearied love song built around Madonna's "Into The Groove." If Phil Spector had ever decided to make a record with '60s folk heroes Mimi and Richard Farina, it might've sounded a little bit like Tilly and the Wall.
With an album inspired by love, friendship, music and dancing, it's obvious that Tilly and the Wall like to dance. In particular, Tilly and the Wall like to tap dance. In fact, they forego a drummer. Instead Tilly and the Wall's star percussionist Jamie provides beats with her own nimble-toed tap-dances. Sometimes she bangs some old leather suitcases with drumsticks while Neely and Kianna play tambourine and bells. You can listen to Tilly songs and tap along in your own bedroom in your own house in your own town. They hope that you do.
You might have been lucky enough to get your hands on Tilly and the Wall's very first release — a 7? on the Rue Royale label called "Sad, Sad Song." Maybe you caught some of their much-lauded coast to coast tour with Rilo Kiley in early 2004. You might have read about how Tilly and the Wall came together with the new record label Team Love. If not, here's the story: Team Love is a label run by Conor Oberst and his friend Nate. Tilly and the Wall have known Conor for several years. Conor lives next door to Neely. Neely and Jamie were in a band called Park Ave with Conor when they were still in school. Derek and Nick moved to Omaha from Atlanta, Georgia — a town they love and eulogize in some of their songs. Nick sometimes plays keyboards for Conor's band Bright Eyes. Kianna sings with Neely. Her delicate, perfect harmonies add rainbow colored fairy dust to the Tilly and the Wall sound. When it came time for Tilly and the Wall to record their album, Conor was only too happy to act as producer and was honored to provide a home for them on his fledgling label. Production duties were shared with Steve Pederson of the band Criteria. Team Love is a part of the Saddle Creek Records family, and Tilly and the Wall are Omaha's most unique export.
Wild Like Children was recorded in the basement of a house in Nebraska in the depths of winter, with snow piled high all around. It's difficult to believe once you hear how much warmth and sunshine radiates from every track. It's quite amazing that the Tillies' beautiful voices, drifting from that magical musical basement, didn't melt every snowman from Omaha to Buffalo.
TRACKLISTING:
Fell Down the Stairs 2:20
Nights of the Living Dead 3:55
Bessa 2:38
You and I Misbehaving 4:16
Reckless 2:50
Let It Rain 3:55
Shake It Out 4:05
A Perfect Fit 3:19
I Always Knew 3:10
The Ice Storm, Big Gust, and You 14:23
---
Share this Product
---
More from this collection