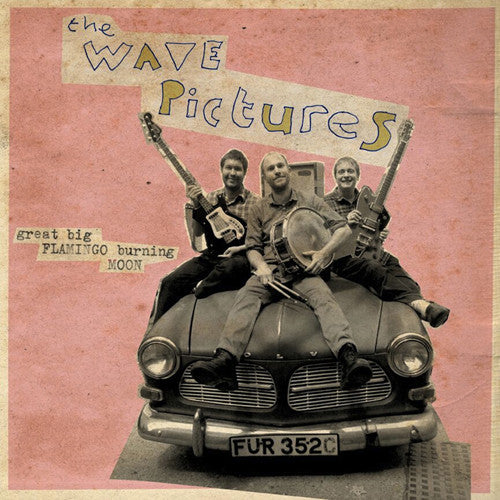 The Wave Pictures
The Wave Pictures - Great Big Flamingo Burning Moon
Biography
Great Big Flamingo Burning Moon is the first US release from English national treasures The Wave Pictures, on Team Love Records. The album was co-written and produced by one of the band's all time heroes, Billy Childish, and every note tingles with excitement at the collaboration. Bursting with energy and ignited with a garage-rock spark, the album rings loud and bold, showcasing Dave Tattersall's searing guitar solos and sharp lyrical wit. Tattersall describes the experience of working with Billy Childish like this:
"We first met Billy in his painting studio in Chatham. It's daunting to meet your heroes, but he was great – just chatting away in his overalls and beret. Everything from that point on seemed so easy and so exciting. Billy is inspired. He knows exactly what he's doing."
The Wave Pictures trio - Jonny Helm, Dave Tattersall and Franic Rozycki - love a good collaboration and over the years have worked as backing band to musicians such as Daniel Johnston, Stanley Brinks and Darren Hayman. Having formed when Dave and Franic were teenagers in 1998, they have always been incredibly prolific, with Dave writing so many songs that the band have made at least one album every year since they moved to London in 2006. Their varied discography captures a range of styles and influences, from garage rock to afro-pop to country punk, all recorded live with few overdubs. They never use keyboards or guitar effects pedals yet they have all they need to create the perfect rock and roll record.
Great Big Flamingo Burning Moon really lays its influences bare. Those who might not usually look past Tattersall's distinctive vocal stylings might miss hearing touches of The Who in the title track or The Troggs in "All The Birds Lined Up Dot Dot Dot". Tattersall swears that the song "I Could Hear The Telephone (3 Floors Above Me)" is; "The Wave Pictures in a nutshell: The Modern Lovers with Rory Gallagher on lead guitar."  It was while recording the song "Frogs Sing Loudly In The Ditches" that Billy commented that the band sounded like "a weird Cream" and proceeded to put the heaviest, bassiest feedback under it. He also suggested doing two Creedence Clearwater Revival songs back-to-back, as Dave reminisces, "He said 'that way people will know you've really got an issue!' and burst out laughing."
In the studio they were joined by Juju Claudius who sang backing vocals on many of the songs and was a huge part of the character of the album. Yet it was Childish's involvement that really shaped the record.  As well as producing the album and co-writing the songs, Billy plays guitar on several of the tracks including "Great Big Flamingo Burning Moon" and the giant riff on first single "Pea Green Coat".
Team Love is proud to introduce The Wave Pictures to America with this new album, out March 17, 2015.
TRACKLISTING
Great Big Flamingo Burning Moon 02:25
The Telephone 03:17
Katie 03:37
At Dusk 03:39
Birds 03:11
Frogs Sing Loudly 02:19
Sinister Purpose 02:51
Green River 04:08
Fox Fur Pillow Case 02:33
The Fire Alarm 03:06
The Goldfish 02:26
The Blue Tent 03:45
Pea Green Coat 02:51
---
Share this Product
---
More from this collection